Door signs are special made signs wich are mountet at eye level next to the door. There are a lot of different variations of door signs in the market. There can be convex or planar door signs made out of glass in combination with stainless steel anchors, or door signs made out of acrylic-glass in combination with aluminum. Most of the signs support the sandwich-construction, so it is very easy to change the insert-foil.
Design float glass door signage and security glass door signage
The designer glass door signs are a good choice for a more classical look for door signs. These glass signs are made of convex or planar float glass or security glass in combination with stainless steel anchors.In between the two glass plates is a insert-foil with the induvidal inscription.The insert-foil available in a transparent or opaque version and is printable with alomost every laser or inkjetprinter. The designer glass door signage can be mounted on walls or glued to glass surfaces.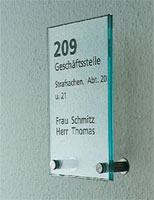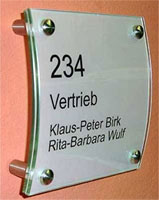 Plexiglass door signage
There is a very great variety of different Plexiglas door signs, the manufactures use different materials like aluminum or stainless steel in combination with the Plexiglas plates. Most of these signs support a sandwich like construction similar to the designer glass door signs. That makes it very easy to change the insert-foil with the individual inscription. Another type of acrylic door signage is a sign with indentations to insert labeled text strips.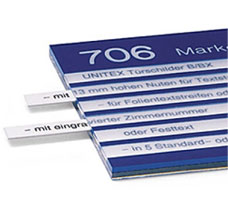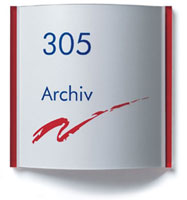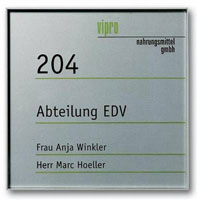 Pictograms
Pictograms are often used for labeling of restrooms or disabled facilities. There is variety of these signs and they are made from different materials.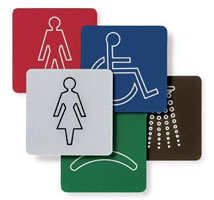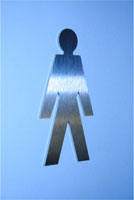 Functional door signage
These are special signs that are often used in conference rooms. The signs have a switch to set the sign on "Free" or "Occupied", so that a possible interruption to a meeting is avoided.